Lanyards available attachments
Lanyard accessories are available in a wide range of types and dimensions. They can be utilized for holding nearly anything that's light enough to hang around your neck from an ID card to a set of keys. With many alternatives offered, what kind of lanyard attachment should you choose?
Allow us to check these most common and useful accessories listed below: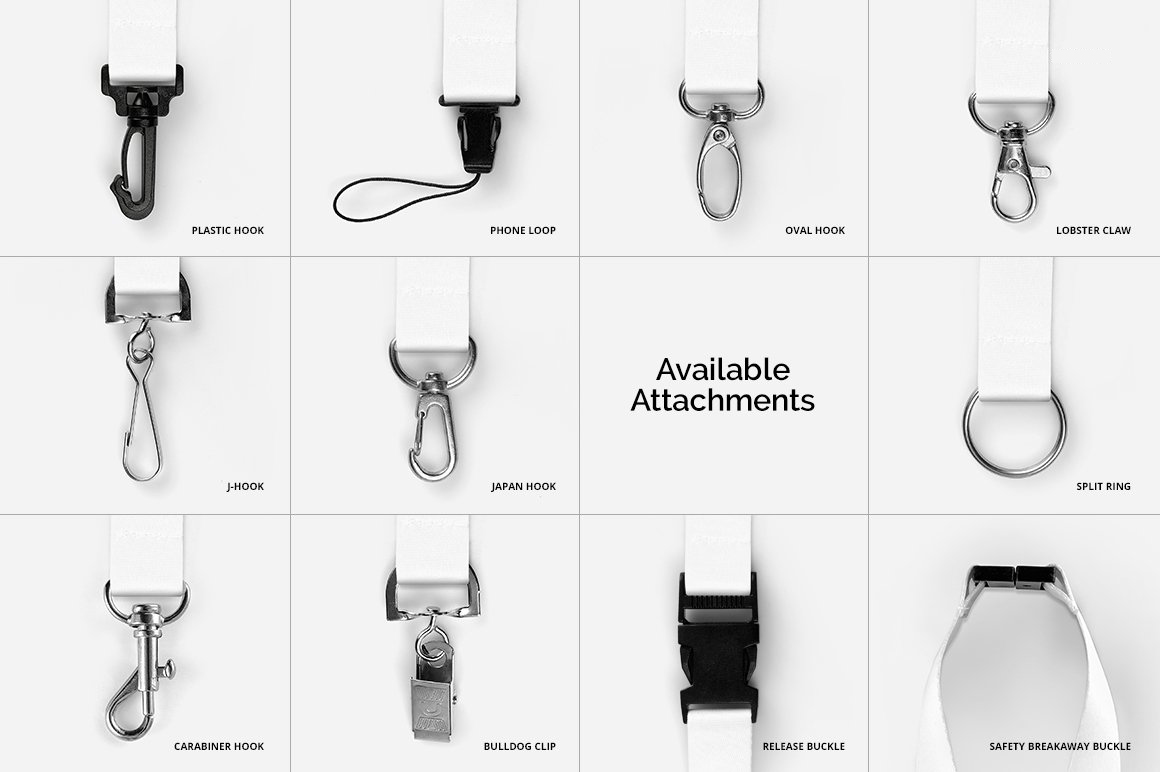 Plastic hook:
It can hold badge holders or keys and also enables affixed objects to rotate.
Phone loop:
This is excellent for keeping cell phones or small electrical devices close at hand and avoiding it from getting lost.
Oval hook:
This can attach to various objects, easy to open and close.
Lobster claw:
It can be used to hold several add-ons. The disadvantage is that clasps can wear out with repeated use, might not hold your items really safely. But they can be very helpful for short-term use.
J-hook:
It can firmly secure a badge holder to a lanyard, giving a simple method to keep a badge facing ahead.
Japan hook:
Unique looking from lobster claw and oval hook. Long-lasting for carrying objects.
Split ring:
They serve for holding a selection of items from access passes to keys as well as various other items. Affix your badge straight with a split ring accessory or use it with a band clip or other|various other attachments.
Carabine hook:
This is a durable fashionable high-quality add-on, swivels around.
Bulldog clip:
This is among the most typically used lanyard attachments. These clips provide the most convenient means to connect your badge to a lanyard, keeping it entirely straight.
Release buckle:
This allows you to remove the neck strap from your keys for quick release, that making your lanyards detachable.
Breakaway buckle:
This is made for safety and security and also situated at the front or behind the neck, making it conveniently obtainable. For example, if lanyards were captured by a tough obstruction it will break off or can be disengaged so as to avoid injury.
Other special attachments like bottle holder, carabiner, badge reel, swivel clip, trigger snap swivel hook are all available in our factory.

Whatever your lanyard, lanyard accessory demands are, you can rely upon us to pick the ones that are right for you. Get in touch with us at sales@ibetterplus.com.